An Idea Becomes an Institution
In 1957, George Shepherd, the Executive Director of the California Drycleaners Association (CDA), was inspired by President Dwight D. Eisenhower's plea for "People-to-People Diplomacy." President Eisenhower encouraged private contacts between people of different nationalities, rather than through government channels, to develop peace and friendship on an international basis.
George Shepherd thought that "People-to People Diplomacy" could be used to reach out to cleaners in other countries. He shared his vision with two of his friends in the drycleaning business, Tom Jones and Jack Wada who had roots in Japan. In August 1958, Lano Nakano, Jack Wada's brother-in-law, sent a letter to Makoto Igarashi in Japan. The letter expressed Mr. Wada's desire to hold an international convention to deepen the mutual understanding between the cleaners in both Japan and the United States. This initiative coincided with the formation of the Japanese Cleaning Productivity Council (JCPC), organized under the guidance of the Japan Productivity Center to improve productivity in the Japanese industry.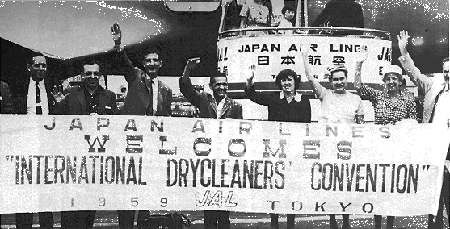 Photo from International Drycleaners Congress — The First 30 Years, by George M. Shepherd, CAE
Joint efforts led to the first IDC Convention, sponsored by JCPC and CDA at the Imperial Hotel in Tokyo on June 24-26, 1959. Over 200 delegates from Japan, United States, Taiwan, Philippines, Korea and other Asian countries attended the conference. The attendees passed a resolution "that hereafter, the convention will be held each year." As envisioned by its founders, annual conventions have been held all over the world. They provide a unique international forum for fostering friendship, as well as exchanging ideas and knowledge among industry members everywhere in the world.
IDC Mission and Policy
The mission of IDC is not just to meet with other industry leaders, but also to see and learn about the people and the country hosting the IDC conventions. Visiting countries with widely variant social, economic and political histories constantly reminds us that people everywhere have pretty much the same ideals. Increased knowledge of personal and cultural backgrounds of people in other countries gives us a greater tolerance of the differences between peoples as well as the opportunity to harmonize similarities. The "Spirit of IDC" envisioned by our founders is to respect and appreciate people everywhere with the goal that it will lead to a finer industry and better world for all of us.
This spirit is expressed in our Mission:
"The mission of the International Drycleaners Congress (IDC) is to strengthen international understanding and good will in the textile care industry by providing opportunities for travel, exchange of information and communication for its worldwide members."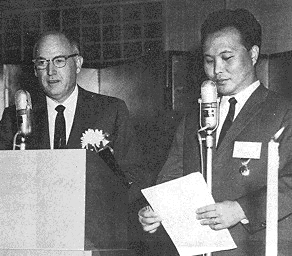 (Photo from International Drycleaners Congress — The First Thirty Years by George M0. Shepherd, CAE)
At the convention in Tokyo, Japan in 1965, the IDC Board of Directors approved the following Statement of Policy:
We believe that business people have a responsibility in understanding and good will.
We believe that business people can contribute to world peace through international friendship and cooperation.
We pledge our support to international goodwill and where possible, to participate in international meetings to help attain these goals.
The mission and policy statements indicate that IDC is not just another business organization. It is an ideal, and the "People-to-People Diplomacy" is one major aspect of this idealism. But it is also down to earth in that the members get valuable information that they can use in their daily work, make more money and enjoy their business.
Governance Structure of IDC
IDC is a non-profit organization governed through by-laws approved by its members. The general control and management of the organization is vested in a Board of Directors composed of at least sixteen regional Vice Presidents and eight Executive Officers. An Executive Committee consisting of the President, Executive Director, President-Elect, First Vice President, Treasurer-Occident and one other member appointed by the President has the authority to act on behalf of IDC between annual meetings of the Board of Directors and the Membership.
CURRENT OFFICERS:
President — TBA
Treasurer – Occident and Secretary — Patricia Bond, Canada
Past President I – Marcus Taslim
Past President II — Lynnette Watterson, USA
Past President IIl – Toshiyuki Izumi, Japan
Executive Director — Chris Tebbs
IDC Regional Vice Presidents
Region 2 — Asia  Ken Uchikoshi
Region 3 — China  John Xue
Region 5 – Australia Shirley Naylor
Region 7 — Canada East Malcolm MacGregor
Region 9 — Canada Central Navazali Merani
Region 10 — Europe West Alexander Seitz
Region 11 — Latin America Murry Kaplan
Region 12 — UK & Ireland To be determined
Region 15 — USA South To be determined
Region 17 — USA East Carol Memberg
Region 19 — USA West Lynnette Watterson
Region 20 — USA Central John Jordan
Region 21 — Europe Central Cristina Zaman
IDC Administration
Membership: Mr. Chris Tebbs
Executive Director   
256 Sun Valley Drive SE,
Calgary, AB T2X 2T8 Canada
Phone: 1-403-685-4755
Fax: 1-403-256-9565
E-mail: interdryclean@shaw.ca
IDC Programs
As IDC matured, the officers and members of the organization felt it was important to determine what, if any, additional activities might prove practical. Several IDC members advocated that the organization should get involved in research, education and exhibitions. At the 1967 IDC Convention in Honolulu, Hawaii, these issues were deliberated and settled.
It was decided to leave these activities within the structure of the national trade associations in each country. IDC reconfirmed the commitment to its original mission, namely to conduct international conventions and to sponsor IDC Fellowships for its young industry leaders.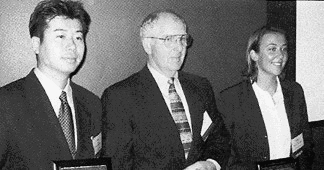 This decision proved to be very beneficial to our industry worldwide and to our national organizations. Most IDC Directors are also leaders in their respective national organizations and, therefore, have no conflict of interest in their dual professional leadership roles. In addition, national association executives and research directors are regular speakers at IDC convention programs. This has elevated IDC to the unique international forum for our industry.
It is the tradition of IDC that the annual convention take place in the home country of the President for that year. This gives members the opportunity to visit many destinations in conjunction with the convention, and build lifelong memories together.